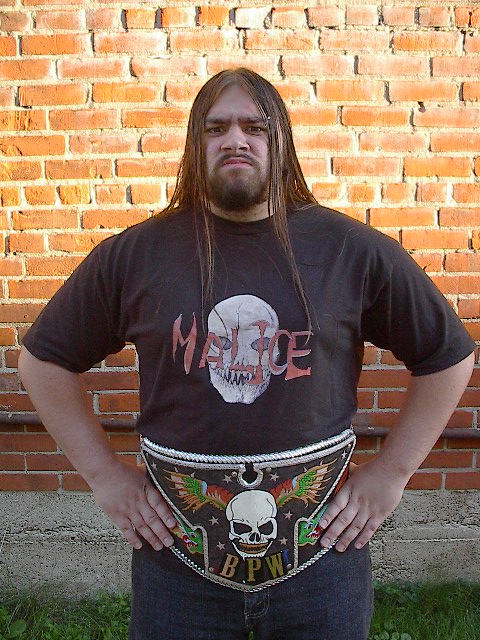 BIO
Height: 5'7
Weight: 235 lbs.
From: The "Bad Lands" of Nevada
MALICE is known for being brutal in and out of the ring.


Not one that feels regret or remorse for his actions he attacks and destroys anyone and anything in his path, yet he is never
satisfied with the amount of damage he does.

Malice truly lives up to the meaning of his name, which is:

Websters dictionary meaning 1 says:

1. to cause pain, injury or distress to another.

The meaning of his name is truly ironic considering his in ring cruelty to his opponents since he is unrelenting.

Never the less Malice is a wrestler who truly lives up to his name!
Promotions: All American Wrestling (AAW), American Revolution Wrestling (ARW), Minnesota Championship Wrestling (MCW), All Xtreme Wrestling (AXW), Bull Power Pro Wrestling (BPW), (IWI), National Federation of Wrestling (NFW), Pro Wrestling Organization (PWO) NWA Wisconsin, Range Pro Wrestling(RPW), Wild On Wrestling(WOW), National Association of Wrestling(NAW), The Wrestling Federation (TWF), Wisconsin Pro Wrestling (WPW), Range Pro Wrestling (RPW), Rock n' Roll Wrestling (R n' R)
Titles Held: ARW Tag Team w/ Venom, AAW Tag Team w/ Venom, AAW Hardcore, BPW Heavyweight, BPW Hardcore, 2 Time BPW Tag Team w/ Venom, 2 Time NFW Midwest Extreme, RPW Tag Team w/Super Star Steve Stardom, NAW Extreme